People say you should seek out a wise and experienced older person to help you learn to knit. I am here to advocate for seeking out a gang of sassy. hip, experienced
young
people for the very same purpose. I'm itching tackle some more difficult knitting skills and it is my teens that I am turning to for guidance. I have never knitted anything that wasn't basically a square or rectangle. My 3 older daughters can crank out cabled sweaters, shadow-knit scarves, and intricate slippers.
(This is a baby blanket Naya and Sodie just finished for their expectant math teacher...it is a gorgeous sampler that they made up as they went along...they took turns, each knitting a few rows in a different color and stitch pattern, then Naya knitted a 'basketweave' border all around the edge. I wish I could photograph the colors acurately.)
They are the ones who've provided Toucie with her Waldorfy barnyard of woolen animals, instead of me. (Thank goodness for big sisters!!)
(We have horses, hens, cats, and somewhere there are some sheep and pigs, too - all knitted by Mado, Naya, and Sodie when they were around 12/13 years old)
One of my goals for this year (number 2 on
the list
) is to knit myself an actual garment. I've been searching high and low for a pattern that is both ultra-simple and attractive for my first sweater attempt.
Here is the pattern
that is topping the list right now.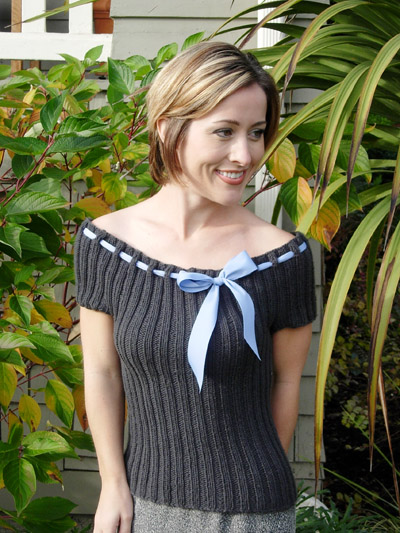 (photo from Knitty.com)
I've got the yarn all ready, and my knitting-emergency-rescue squad (aka Naya, Sodie, and Mado) all assembled....wish me luck!